We manufacture wooden packaging machinery
BRIDGE
The BRIDGE nailing machine executes nailing, boring/counterboring, milling and trimming of products in the same work cycle. The programs can be created at the operator panel or at the computer in the technical department.
RAPID
The RAPID nailing machine produces wooden packaging such as cases, cages, crates, flatbeds, flanges, saddles, pallets, garden wood, fences and more, through nailing, boring/counterboring, milling or trimming of several products in the same work cycle.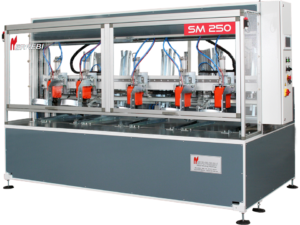 SM
The SM nailing machine produces blocks or stringers. This machine is ideal when you need to produce several different models on the same working day. Possibility of producing both standard as well as winged and indented block stringers.
Errebi machines worldwide
"I'd choose Errebi again as the machine supplier for our company because after a few weeks, the Rapid M8 machine has met all of our expectations: we manufacture more quickly, safely, with greater precision and quality.Whenever we had special requests, Errebi took them into consideration with extreme seriousness. That again shows that our investment went in the right direction".
Alexander Hölzle – Hölzle Holz e. K.

"We work with two Errebi machines: Rapid and SM. Both are a great help in our production of wooden packaging. Easy to handle and working for years without any problems. We can recommend these machines as well as the service provided by the company".
Wolfgang Sirch – Sirch e. K.